Light-hearted aperitif enjoyment from the Black Forest
Schladerer presents non-alcoholic version of its popular VINCENT aperitif
Non-alcoholic spirits are undeniably a trend. The younger crowd in the big cities in particular is welcoming the new variety – in the bar but also at home. And the realization is slowly gaining ground: Complex drinks with depth and finesse are also possible without the flavor carrier alcohol.
With VINCENT non-alcoholic, the Black Forest house distillery Schladerer now presents a high-quality aperitif alternative that comes up with natural herbal extracts and the fruit of fresh raspberries. Wonderfully fresh, with a perfect balance of fruit and bitter notes. In combination with tonic water, a light-hearted pleasure that leaves nothing to be desired in terms of taste.
As with the "normal" VINCENT, Schladerer relies on homemade bitter macerates, for example from gentian and raspberry leaves, as well as natural herbal extracts for the production of VINCENT non-alcoholic. In combination with the juice of ripe raspberries, a surprisingly complex interplay of aromas unfolds. All ingredients are exclusively of natural origin.
SIGNATURE DRINK
VINCENT TONIC NON-ALCOHOLIC
Pour 6cl VINCENT non-alcoholic into a glass filled with ice cubes
Add 12cl tonic water
Garnish with raspberries & mint

VINCENT also cuts a fine figure as a spritz in a non-alcoholic sparkling wine and promises aperitif enjoyment without remorse.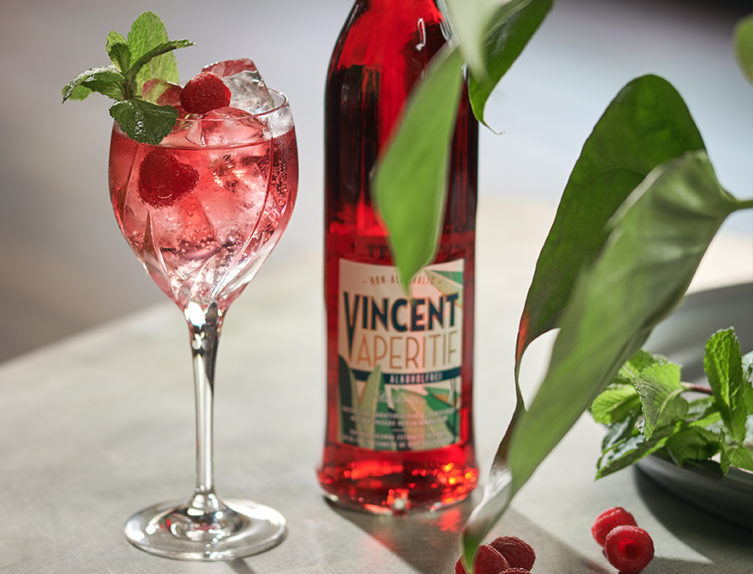 ---